PUGLIA GUIDED CYCLE TOURS – BIKE AND TASTING
NOT AVAILABLE FOR 2020 

WHAT WE WILL SEE: this HALF-DAY BIKE TOUR explores the central area of Puglia, a spectacular region in southern Italy. Here the Adriatic Sea offers us a warm climate, crystal clear waters, with beaches and rocky coast, while inland our itinerary will take us through vast paths full of gigantic monumental olive trees, pastures with animals, wheat fields, wonderful and impressive historic 'Masserie' and ancient little paths with the famous "dry stone walls" … they are ancient feudal palaces of 1600 that represent a splendid architectural masterpiece!
It's a very special excursion. You will cross the paths that go from the "Plains of Ancient Olive Trees" to the wonderful coast of the Adriatic sea! Slowly, enjoy these incomparable, rustic and bucolic landscapes …
Cycling along the country roads of Puglia means living a fairy tale: this is why you will encounter giant millennial olive trees that have the strangest and most amusing forms in the world! They are real "wooden giants". With our guides you will be able to appreciate the authentic and characteristic rural essence of this piece of Puglia.
And then there's the LUNCH! The Apulian food is delicious, without frills, very savory … and is accompanied by excellent local wines.
So, at the end of this exciting cycling experience you will enjoy the: "Sailor's Tasting"! As a true 'local' you will taste the fresh fish dishes of southern Italy (cooked in many variations). You'll be guests of a typical selected restaurant, right on the sea.
And, naturally, you will drink the best fresh wines from local vineyards.
The exclusive coastal route covers the area from Savelletri to Torre Canne (near town of Fasano). It is a very popular area that hosts the best 5-star resorts in the whole of Puglia and which attracts travelers with the most refined tastes.
As always you will be accompanied by highly qualified personnel: Environmental Guides, Biologists and expert in biking tours.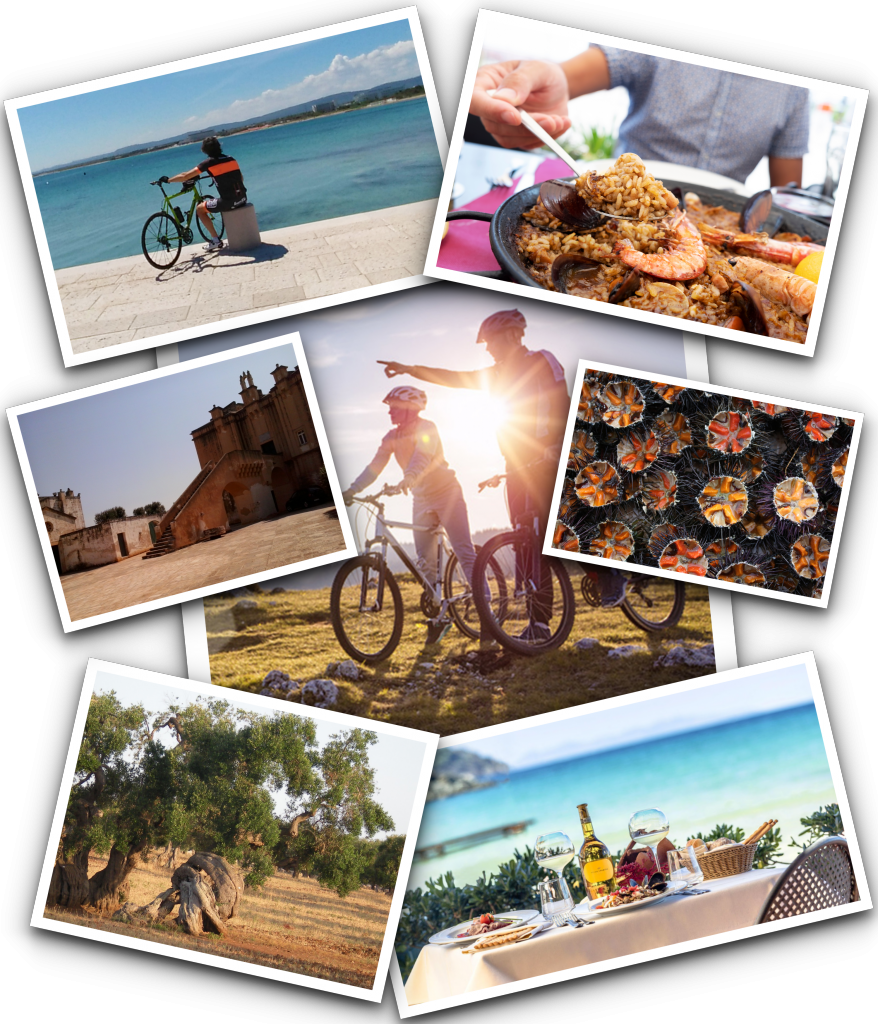 The roads selected for you offers a multitude of "WOW factors" of unique beauty!
And the final tasting, which will make your day beautiful,
generally INCLUDES:
✔ APPETIZER: taste of soutè of mussels, seafood salad, anchovies, mussels au gratin, salmon, local chillies.
✔ FIRST COURSE: spaghetti with fresh seafood
✔ SIDE DISH: mixed fried seafood and shellfish
✔ DESSERT: pie or fruit
✔ WINE: sparkling white or rosé (1 bottle every 3 people)
✔ WATER, BREAD and COFFEE
This culinary experience can be enriched by ather dishes (off the menu) to be paid by the tourist (Extra)


BIKE 'N' SEAFOOD TOUR DETAILS:

• Experience available: MONDAY, TUESDAY, FRIDAY, SATURDAY  (from March to November)
• 10.00 a.m. ► Meeting of the participants at "LA LOCANDA DEL RICCIO" Sea Restaurant – Savelletri di Fasano (Br) S.P.90
• Registration,

presentation with guides, bike test,

briefing and start activity ?
• Route: Savelletri – Torre Canne coastal road (and inland) 'ring circuit' with return to the restaurant
• Level: T (Touristic) – ◉◎◎◎◎ medium/simple activity (minimum age: 14 years)
• Duration bike tours: about 2,5 H. –  distance: about 11 miles (18 km)

• There are no significant gradients
• At the end of bike tours: restaurant break (scheduled start of tastings at about 1 p.m.)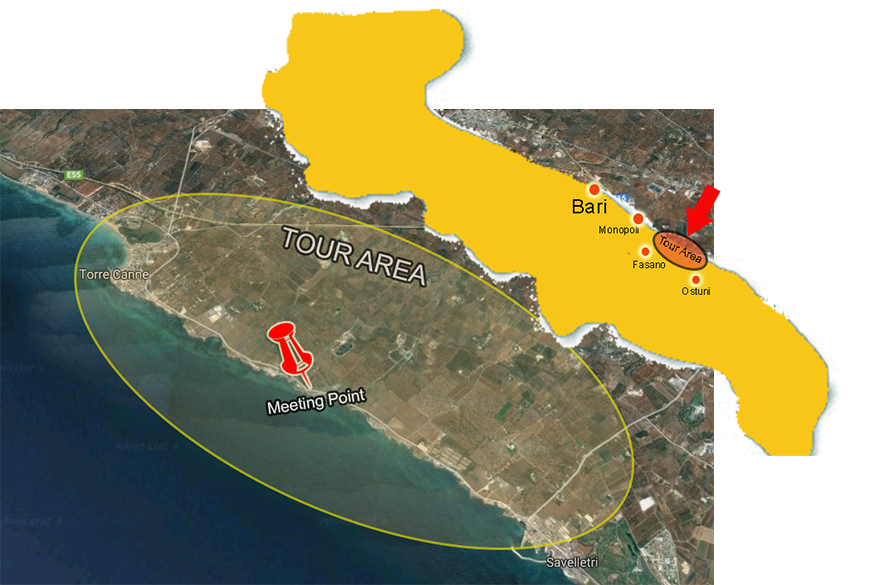 ---
PRICES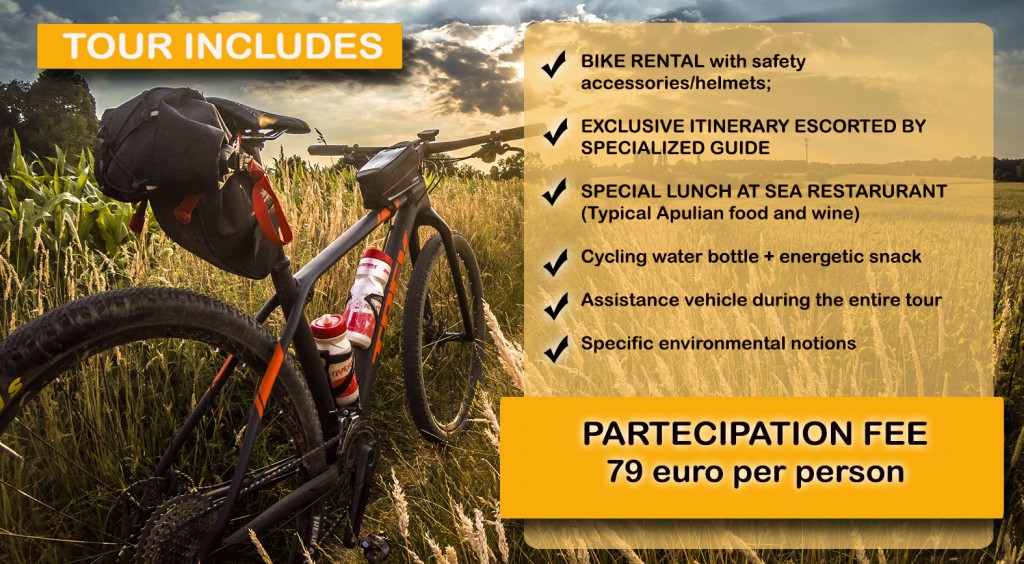 ---
INFORMATION TO KNOW:
•

WHEN YOU CAN BOOK  THIS TOUR:

MONDAY, TUESDAY, FRIDAY, SATURDAY

  (from March to November)
IT IS NECESSARY TO CONTACT PUGLIAVVENTURA TO KNOW THE AVAILABILITY (and to book) AT LEAST 5/6 DAYS BEFORE.
THE ACTIVITY WILL BE CONFIRMED WITH A BOOKING OF MINIMUM

4

PEOPLES AND A MAXIMUM OF

10

PEOPLES.
•

RATES:

79 Euro per person
This experience includes:

◾ BIKE RENTAL with safety accessories/helmets;
◾
EXCLUSIVE ITINERARY ESCORTED BY SPECIALIZED GUIDE:
✔ Savelletri-Torre Canne Coastal roads
✔ "Monumental Olive Trees" roads
✔ Ancient "Masserie" and "dry-stone walls" paths
◾
PARKING FOR YOUR VEHICLE

◾
LUNCH AT SEA RESTARURANT AND BEVERAGES

◾
1 cycling water bottle + energetic snack (per person)
◾
Assistance vehicle during the entire tour
The program may be changed by the guides for security reasons. The restaurant menu is made of fresh, not frozen products. The availability of some seafood/wine is related to the season. If you have food intolerances, promptly notify this to the organization or to the restaurateur. 

The guides will distribute the bikes based on the composition of the group.
•

THIS EXCURSION IS SUITABLE FOR:



PEOPLE WITH AGE AND ATHLETIC AND PSYCHO-PHYSICAL CONDITIONS SUITABLE FOR THE EVENT [SELF-ANALYSIS IS REQUIRED].
THE PARTERCIPANT MUST KNOW THAT IN THIS REGION SUMMER CAN BE VERY HOT. THE ORGANIZATION DECLINES ALL RESPONSIBILITY IN CASE OF PAIN CONNECTED TO HEAT.

•

BRING WITH YOU: SPORTS WEAR SUITABLE FOR THE SEASON; backpack with spare water bottle (at least 0.50 liters each), bandana, cap with visor, sun protection, sun-glasses, K-WAY, sneakers (gym shoes), spare clothes.

•

THE BIKES THAT YOU CAN RENT HAVE THE FOLLOWING CHARACTERISTICS:
MTB (unisex) in light aluminum with fork with shock absorbers or lockable system;
2X10 speed transmission or alternatively (depending on the tour) 3×9 speed;
anti-fatigue saddle, hydraulic disc brakes;
indicative weight of the bike: 12 kg.
Brand: MERIDA or ATALA.
Examples: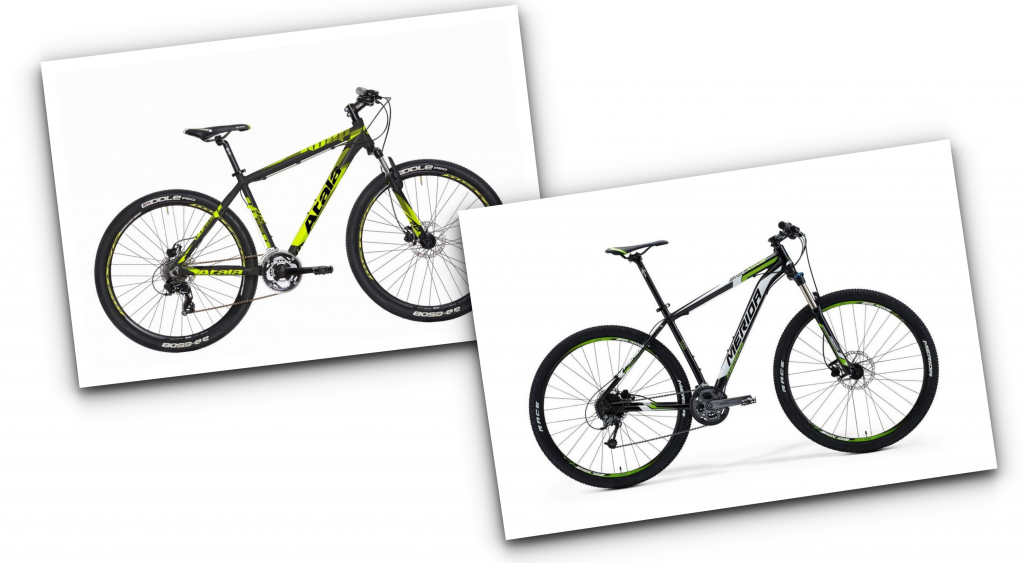 NOT AVAILABLE FOR 2020