PRIVATE TOUR. Are you ready for a beautiful Hiking Experience in majestic places? Yes, this is one of the Southern Canyons where Mother Nature has given her special touch. This scenarios are spectacular and they will give you unforgettable emotions. Explore with us a "BOOK OF STONE" that will reveal the evolution of this land. We will let you know a deep rift near in front of MATERA CITY that made fall in love many Hollywood's directors.
You must know that Matera is the Capital of European Culture 2019 and is also a UNESCO World Heritage Site. Our guides will show you the historical-natural archaeological park of the Murgia Materana and the Rupestrian Churches, an area that contains some of the most important archaeological sites in Italy, dating back to the Palaeolithic and Neolithic periods. You will also see real jewels: the rock churches built in the rock. These territories emerged between the Upper Jurassic and the Cretaceous, due to tectonic movements; this explains the presence of numerous marine fossils in the cave rocks.
Going through the paths of this canyon is like taking a dip in history! The park of the Murgia Materana and of the Rupestrian Churches preserves important archaeological evidence dating back to the prehistoric age of the Palaeolithic and Neolithic, starting from 10.000 years before Christ.
TOUR PROGRAM (Big Hiking Version)

10:00 a.m. Appointment with the participants and Briefing [at Jazzo Gattini – Matera]
10:30 a.m. Starting of the Activity (ring shape itinerary)
14:00 p.m. (about) Return to starting point – end of Activity
14:30 p.m. possibility of typical local tasting* (-> euro 15 per person)
* it is possible to book this gastronomic experience at the beginning of the activity
(You can choose a reduced version of the route. In this case the return is scheduled for about 13.00)
ITINERARY DETAILS (Big Hiking)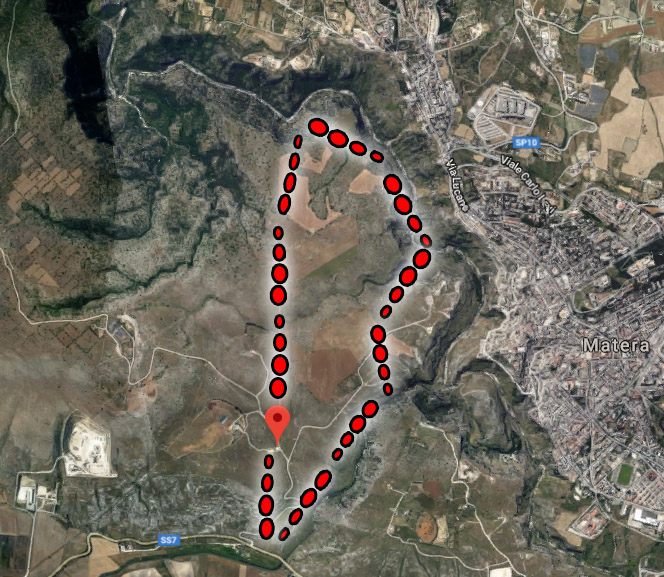 ? Meeting Point:
JAZZO GATTINI VISIT CENTER
Masseria Radogna (c.da MurgiaTimone)
-MATERA-
N 40.67221,  E 16.62925
N 40°40'20",  E 16°37'45"
(start and end of activity)

☛ WHERE IS THE MEETING POINT
---

PRICES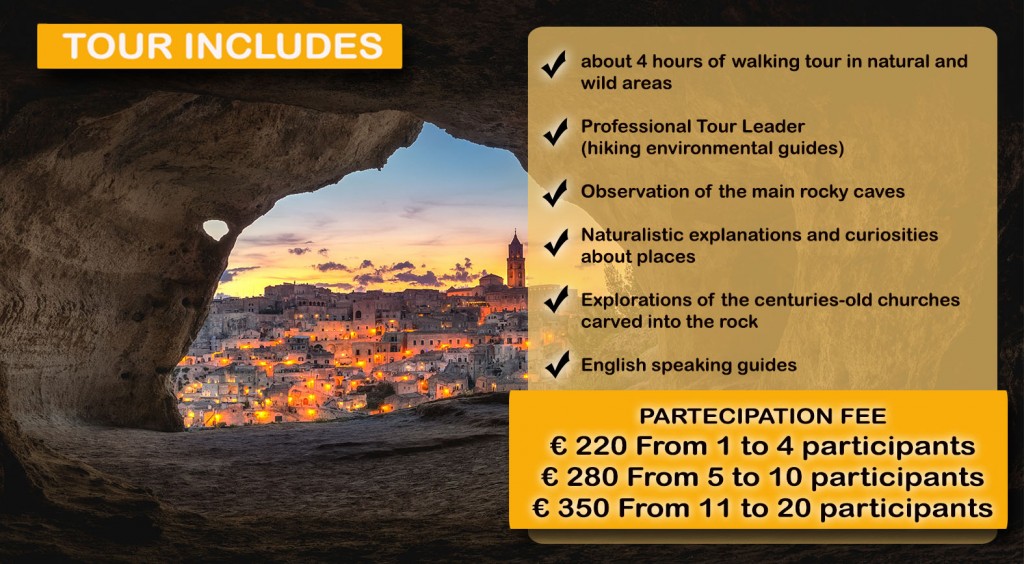 GUIDE SPEAKING ENGLISH: +50€ only!
---
INFORMATION TO KNOW
•

WHEN YOU CAN BOOK THIS TOUR: from Monday to Friday (except for the period from 5 July to 5 September – high temperatures do not recommend the experience).
IT IS NECESSARY TO CONTACT PUGLIAVVENTURA TO KNOW THE AVAILABILITY (and to book) AT LEAST 7 DAYS BEFORE.
• 

RATES SUMMARY AN CONDITIONS:
►220 euro per person (from 1 to 4 partecipants)
►280 euro (from 5 to 10 partecipants)
►350 euro (from 11 to 20 partecipants)
• 

MEDIUM DIFFICULTY LEVEL – suitable for adults and young aged 15 and up
•

YOU CAN CHOOSE
1) BIG HIKING (about 4 Hours); length of the route: about 8 KM (MILES: about 5)
2) SHORT HIKING (about 3 Hours); length of the route: about 4,5 KM (MILES: about 2,5)
• 

ON REQUEST: transfer to/from hotel – meeting point.

•

WHAT TO WEAR AND RECOMMENDATIONS: Trekking Shoes (or similar); sportswear suitable for the season; cap bring cap with visor and possible sun protection; backpack with 1 lt of water, energy food, camera. We recommend replacement clothing after the activity

•

The point of departure (and arrival) is a visitor center that has toilets, parking, bar tables and basic necessities.